Dr. Sherine Abedel-Salam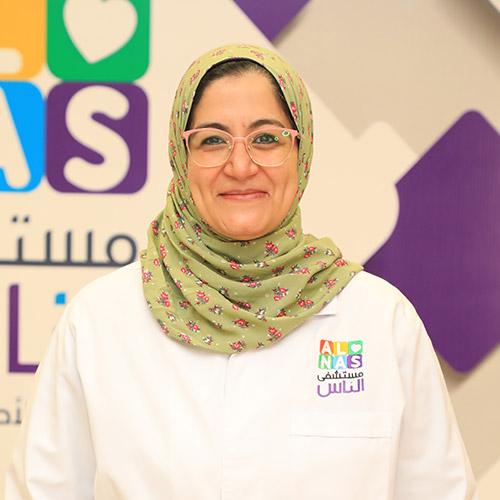 Head of the Pediatric Cardiology Department
Head of pediatric cardiology Al-NAS Hospital.
Consultant and head of pediatric cardiology department, Magdi Yacoub Foundation, 2013-2017.
Pediatric Cardiology Specialist, Aswan Heart Centre, Magdi Yacoub Foundation, 2009-2013.
Membership:
Royal College of Physicians UK
Egyptian society of cardiology
European association of cardio-vascular imaging
European grown-up CHD society
Member of SCAI
FELLOWSHIPS
- Cardiac Catheter Interventions, Virgin De Las Nieves, Granada, Spain. 2008
- Pediatric Cardiology Department, Sainte Justine Hospital, Montreal, Canada. 2010-2011
- Acibadem Hospital for percutaneous pulmonary valve implantation, 2016
-Pediatric cardiology, Aswan Heart Centre, Magdi Yacoub Foundation, Egypt. 2009
-Dr. Sherien is an Independent operator of almost all pediatric/congenital cardiac procedures, elective or emergency. hemodynamic studies, balloon pulmonary dilatation, PDA closure ASD closure VSD closure, PDA and MAPCA stenting, MAPCAs and veno-venous collateral occlusion First operator of emergency procedures: Rashkind procedure, pericardiocentesis, dilatation of critical pulmonary stenosis in neonates.
-She is First operator who is doing every year around 100 VSD closure,200 ASD closure,160 balloon pulmonary valvuoplasty,15 coarctation dilatation and stenting,150 PDA closure,50 PDA stenting. with high experience in perimembranous VSD device closure as well as muscular VSD device closure in Low weight patients.
-She has Special interest in neonatal interventions including PDA stent, opening of imperforate pulmonary valve, RVOT stenting in TOF, as well as critical aortic stenosis balloon dilatation, adult congenital interventions including stenting of almost interrupted aortic arch, many of complex procedures eg interatrial stenting as a palliative procedure and percutaneous pulmonary valve implantation.